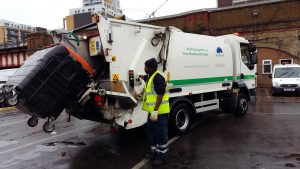 Continental Landscapes received a Gold award at the Royal Society for the Prevention of Accidents (RoSPA) Health and Safety Awards 2017.  The RoSPA Gold award recognises companies that have achieved a very high level of performance, demonstrating well developed occupational health and safety management systems and culture, outstanding control of risk and very low levels of error, harm and loss.
Billy Vance, fleet and safety manager at Continental Landscapes Ltd, said, "Our continued success in the awards is a great accolade for the company, and I'm proud of every member of staff for taking safety so seriously."
He continued, "We have been involved in FORS for a while now, and have been a Gold member for the last five years. FORS gives us the tools to maintain the safety of our fleet to the highest standard. It is certainly one of the cornerstones of our business, and one of the reasons why we celebrate continued success in the RoSPA awards".
The landscaping company, based in Bicester, employs over 800 people and has 300 vehicles in operation at locations across the UK. Its main clients include local authorities, government departments and housing associations.