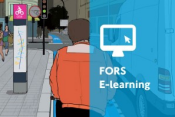 We would like to remind all members that FORS Online Driver Training access has changed. Users no longer need to log in to a FORS account to access the FORS eLearning modules.
In order to register for eLearning follow the steps outlined below:
Click on the Training tab at the top of the FORS homepage
Scroll down the page and click on the eLearning button
Click on the Register as a Driver button
Please note all users wishing to complete the eLearning modules will have to register individually in order to download the certificate on completion of each module.
Should you require any assistance in getting your drivers registered on eLearning, please contact the FORS helpline on 08448 09 09 44 or email enquiries@fors-online.org.uk