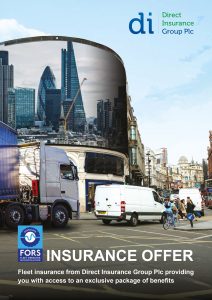 We welcomed to the FORS CV Show (2017) stand new FORS Associate, Direct Insurance Group (DIG), who have developed a range of 'benefits-rich' insurance packages for FORS members.
In addition to taking advantage of dedicated and competitively-priced fleet insurance products from DIG, FORS members can enjoy a number of significant benefits; all of which are designed by FORS and DIG to help you reduce road risk, save operating costs and progress through FORS accreditation.
FORS members taking up a new insurance contract with DIG can look forward to:
Subsidised FORS subscription and audit fees
Up to 10% savings on DIG policies
Free training to help meet FORS professional development
Free management reports to help meet FORS requirements on performance data and reporting
Free expert support and advice
Low claims rebates
To view the offer from Direct Insurance, click here.