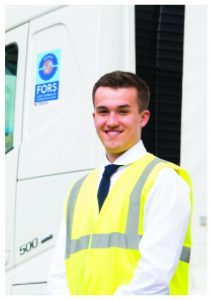 With recruitment a key issue for the transport industry, we were delighted recently to learn that our FORS Practitioner workshops are attracting younger transport professionals. At just 19-years-old, Jonathan Winlow from USL Group has become the UK's youngest FORS Practitioner.
USL Group – a specialist construction company based in Washington, Tyne & Wear – supported Jonathan as he completed all nine FORS Practitioner workshops, offered free of charge to members through our FORS Professional training package. FORS Practitioner workshops are designed for transport professionals from across the transport spectrum and cover the essential elements of safe, efficient and environmentally responsible fleet operations.
Available nationwide, Jonathan's nearest FORS Practitioner modules were conveniently located in Newcastle, within easy reach of the company's headquarters in Washington. This allowed him to complete all nine workshops in under six months.
Jonathan featured in our pilot issue of The Standard magazine which we launched at the CV Show, and he was keen to share how he has benefited from FORS Professional training.
"As someone new to the industry" he said, "it was particularly useful for me to learn where to start with the development of transport policies and ways to communicate these throughout the fleet.
"Advice on safety procedures and maintenance has been particularly useful," said Jonathan, "With a fleet of over a hundred vehicles, it's crucial we stay on top of defects, maintenance, driver fitness and hours. There's so much to manage," he said, "The tips and advice for managing the workforce effectively were particularly useful for me, as we look continually to raise our operating standards." He added, "We're now aiming for FORS Silver accreditation, and I'm confident we're going to get it."
You can read the full feature on Jonathan  in The Standard here. For more information about the Practitioner workshops, please click here.