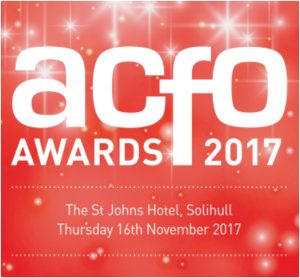 FORS has been shortlisted for two of the prestigious Association of Car Fleet Operators (ACFO) Awards – the annual awards ceremony that shines a spotlight on the vehicles, services and companies that have most impressed the membership of ACFO, recognising and rewarding the very best in the fleet sector.
FORS has been nominated for both the Fleet Safety Initiative/Service of the Year award, and the Fleet Service Company of the Year – a category in which both FORS Affinity Partners FleetCheck and Licence Bureau have also been nominated for.
This year's ceremony will be taking place on Thursday 16 November at the St Johns Hotel Solihull, and will be supporting the Alzheimer's Society. To find out more, please visit the ACFO website.