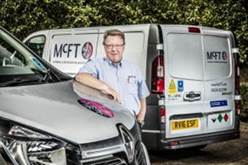 FORS has launched a new Light Vehicle Working Group to support the more than 50,000 light commercial vehicles (LCV) that are part of the scheme. The group will ensure that the needs of LCV operators are fully covered by FORS and that future benefits and standards are shaped with their input.
The first meeting of the FORS Light Vehicle Working Group was held on Friday 7 July at the McFarlane Telfer (McFT) offices in Maidenhead, Berkshire. Chris Craggs, managing director of McFT, hosted the event which was attended by representatives from McFT, CILT, Leaseplan UK, BML Utility Contractors Ltd and Roger Bullivant. Thales Installation is also part of the group but could not attend the meeting.
James Tillyer, FORS manager, said: 'We have many light vehicle operators in FORS and it's important that we provide a platform to discuss how we can develop the scheme for couriers, tradesmen, parcel companies, utility workers and others. There was really constructive debate during the first meeting of this new group, and we have some great ideas to consider over the coming months'.
If you are a LCV operator and would like to take part in the working group, please send a request to James Tillyer: James.Tillyer@ciltuk.org.uk