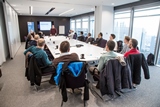 Places are still available on FORS Practitioner workshops 1- 10 in Motherwell throughout September. Book a place now for you and your transport team to make the most of this professional development opportunity.
Designed to assist and develop transport professionals, FORS Practitioner is a series of 10 workshops covering all aspects of fleet management.
The workshops are open to all FORS members and can be attended individually, and in any order. A FORS Practitioner qualification, which is valid for five years, is awarded to those who attend all 10 workshops in the series.
Click on the dates below to find out more information and to secure your place:
Workshop 1 – Developing fleet management policy – 4 September 
Workshop 2 – Managing work related road risk – 4 September
Workshop 3 – Managing driver fitness and health – 5 September 
Workshop 4 – Managing driver training and development – 5 September
Workshop 5 – Collision procedures and analysis -11 September
Workshop 6 – Safe and efficient fleet management – 11 September
Workshop 7 – Reducing fuel use and minimising environmental impacts – 12 September
Workshop 8 – Minimising transport fines and charges – 12 September
Workshop 9 – Measuring and monitoring road fleet performance – 24 September
Workshop 10 – Managing noise in logistics – 24 September
Under 'D4 Professional Development' of the FORS Standard, fleet operators are required to identify and document the training needs of drivers and other staff involved in the fleet operation, as well as implement a Professional Development Plan (PDP). FORS Practitioner is recommended professional development for all managers, trainers and supervisory staff. Though attendance to the workshops is not mandatory under FORS D4, it should be considered for inclusion in the PDP for relevant staff.
If you have any questions, please call us on 08448 09 09 44 or email us at enquiries@fors-online.org.uk.