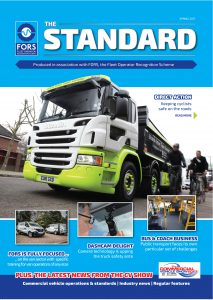 FORS chose the CV Show (2017) to launch The FORS Standard magazine; a pilot issue of a new 'industry journal' dedicated to operators, suppliers and transport professionals focusing on best practice in the transport sector.
Including a CV Show news round-up, The Standard also goes in-depth on a range of topical issues affecting safety, efficiency and the environment, drawing on the expert input from leading companies and individual contributors – and supported by FORS Associates offering discounts on products and services exclusively for FORS members.
The Standard is being distributed directly to FORS members and, with a close eye on drivers, directly to truck-stops and motorway services across the UK, "Commercial vehicle best practice, or sometimes the lack of it, is most evident out on the road," said FORS Operations Director, Anne Johnson, "so, we're sending The Standard straight to drivers, so they can see first-hand what FORS is all about, and how they have arguably the biggest influence on safety, efficiency and environmental protection.