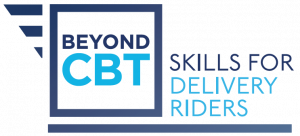 In its bid to support the London Mayor's Transport Strategy, Transport for London (TfL) is funding a number of places on a new FORS Professional motorcycle training course. 'Beyond Compulsory Basic Training' is aimed at novice delivery riders to improve navigational and riding skills on London's busy streets.
As members will be aware, the FORS Standard is currently being reviewed and version 5.0 will see the inclusion of more vehicle types, including Powered Two Wheelers (P2Ws). This one day course, created to promote best practice in the delivery sector, will help operators to improve the knowledge and skills of their motorcyclists and therefore raise the safety standard across all their fleet.
TfL has also developed an eLearning module to assist those interested in preparing for a Compulsory Basic Training test.
For more information about the Beyond Compulsory Basic Training course, please click here.
To access the eLearning module, please click here.